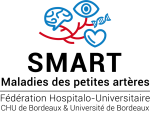 An University Hospital Federation SMART
A Transdisciplinary project aimed at unraveling mechanisms the SMall ARTery disease and developing personalized approaches to prevent its occurrence, progression and consequences.


The FHU-SMART Consortium combines partners from Bordeaux University Hospital, Bordeaux University, CNRS, and INSERM units, encompassing several hospital specialties (cardiology, ophthalmology, neurology, radiology, hematology, and public health) and major research areas (vascular disease biology, epidemiology and statistical genetics, neuroimaging, bioinformatics, and health economics).
The consortium comprises associated academic partners from Bordeaux and Paris, and major international collaborative networks.
---